Discover Port-Louis, the capital, and shop around the market, one of the best way to get a feeling of the Mauritian melting pot. Strong scents, bright colours and the large variety of pastries and other exotic specialties to fill-up your senses.
Pamplemousses Garden

The world's most ancient botanical garden. First created for the personal enjoyment of former French governor François Mahé de Labourdonnais, it became a public botanical garden in 1770. Well-known for its giant water-lillies, it however hides many other gems of nature within its rich variety of species, making worth a tranquil one-hour stroll.
Labourdonnais - The Museum Castle

The Labourdonnais "castle" is somehow a continuation of the Pamplemousses garden – located just 7 kms away from each other and both part of the historical heritage of Mauritius. Labourdonnais also hosts a manicured tropical garden and a colonial mansion built in 1859, now converted into a museum.
Grand Baie

Grand-Bay is the ideal place to shop and dine out. Over the last 2 decades, this coastal village has grown rapidly in a spontaneous way. You will find all sorts of food outlets, restaurants and shops. The bars and clubs are very busy during week-ends.
Gunner's Coin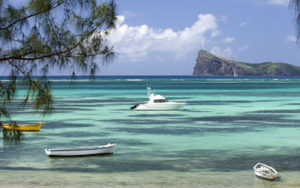 The majestic Gunner's Coin island, straddling on the horizon of the bay, emerges from the water and peaks at 276 meters off the northern coast. Take pleasure in admiring the beautiful volcanic patterns of the rock and dive into its crystal-clear coves.
Cap Malheureux Church

The famous Cap Malheureux church will give you the impression to be in a fairytale with its red roof against the emerald and blue seas in the background. Located in the lively fishermen's village of Cap Malheureux, you can admire the fishermen getting back with their catch of the day.